January 23, 2018 – 3:05 pm update – Well, the big storm was not as big as advertised, however it did deliver 8 to 12 inches of snow to regions of the Upper Peninsula west of Marquette. The far Western U.P. received about 2 to 6 inches and the Eastern U.P. also received about 2 to 6 inches. This should get the groomers out in the snow belt regions and mid-week riding in those areas should be very good. There is a slight warm up going into the weekend with highs above freezing on Friday and Saturday. Trails should hold up, however, trails will likely soften up during the afternoon.
Overall, Northern Lower Michigan received mostly rain and freezing rain with an inch or two of snow on top. The Cheboygan area did receive 6 inches of snow and the groomers are back in the Cheboygan area. This should allow for some mid-week riding in the Northeastern part of Northern Lower Michigan. We haven't heard any reports of groomers out in other parts of Northern Lower Michigan. Trails will likely be icy with a little bit of snow on top. There is no snow in the forecast this week and highs will be in the 30s and 40s going into the weekend, so trails in Northern Lower Michigan will be in extremely bad shape going into the weekend.
Check back for the latest updates…..
You can keep track of the snow in the forecast by checking out the Radar Loop
Check the weather page for the latest updates on the weather.
Check the Snow Depth Map for areas with the best snow.
Here are the latest photos – and here's the latest trail reports.
Check out John Dee and the John Dee Forecast Graphic for his take on this week's weather.
Complete trailreport.com reports on the web, facebook and twitter:
FACEBOOK – http://www.facebook.com/TrailReport
TWITTER – http://www.twitter.com/TrailReport
Forecasts from Weather Undergound: (Ironwood Forecast) — (Marquette Forecast) — (Newberry Forecast) — (Cadillac Forecast) — (Gaylord Forecast) — (Traverse City Forecast)
NEW: Webcam Map – View webcams throughout Northern Lower Michigan and the Upper Peninsula on our interactive google map.

You can follow the week's weather forecast at John Dee.
You can track some of the lake effect snow on the Radar Loop here and also get an educated guess on the best regions for snowfall on the Winter Storm Warning Map.
You can view the snow depth map here.

To check temperatures and trail conditions throughout Northern Lower Michigan and the Upper Peninsula click on our new google interactive trail report map
LATEST TRAIL REPORTS
Featured Regions For The Winter of 2013 / 2014

---
Featured Regional Links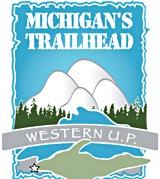 Western U.P. – Trail Reports – Webcams
Western U.P. Snowmobile Lodging
Ironwood – Hurley Lodging, – Montreal Haus Rental – Montreal, WI – Classic Motor Inn – Ironwood – Red Birch Haus – Iron Belt, WI – Comfort Inn – Ironwood – The Cedars Motel
Bessemer – Wakefield Lodging – Indianhead Mountain Resort – Regal Country Inn – Wildernest Chalet I & II – Wakefield – The Bluffs Inn – Bessemer – Big Powderhorn Lodging Association – Windsong Lodging – Bessemer – Powderhorn Northwoods Suite – Bessemer – SnowBlind Chalet 1-6 – Powder Hound Lodge
Lake Gogebic Lodging – AJ's Walleye Lodge – The Timbers Resort – Root Cellar Resort – Bear's Nine Pines Resort
Watersmeet Lodging – Jay's Resort
Ontonagon – Porcupine Mountains Lodging – Mountain View Lodges – Scott's Superior Inn – Superior Shores – Peterson's Chalet Cottages – Rocky Shores Vacation Home – Porcupine Lodge – White Pine – Sunshine Motel – A Cabin & A Cottage Up North – Konteka Resort – AmericInn of Silver City – A Beach Retreat Cottage
---
Gaylord Area – Trail Reports – Webcams
Gaylord Snowmobile Lodging – Ray's Retreat Country Inn – Pine Cone Accommodations – The Waters Inn – Treetops Resort – and more…
Gaylord Snowmobile Rentals – Alpine Snowmobile Rentals – DerMiner's Parkside Market Snowmobile Rentals – Gaylord Dining
---
Harbor Springs Area – Trail Reports

Harbor Springs Snowmobile Lodging – Trout Creek Condominium Resort
---
Traverse City Area – Trail Reports
Traverse City Lodging – Ranch Rudolf – Honor Motel – Honor – Bayshore Resort – Pointes North Beachfront Resort Hotel – Cherry Tree Inn and Suites – Lake 'N Pines Lodge – Crystal Mountain Resort & Spa – and more…
Traverse City Snowmobile Rentals – Blue Sky Snowmobile Rentals
Traverse City Dining – Peegeo's – Ranch Rudolf


<>